From her sleek sheath gown to his dapper brogues, to the stately waterfront Cape Cod wedding venue, and sailcloth tent at the water's edge, everything about Alli and Eric's special day was the very embodiment of laidback beach chic. Our thanks to Kristen and Joe of Organic Wedding Photography for sharing their stunning images with us!
Held on a sunny September Saturday at Turntide Estate, a historic home with epic views of the ocean and Chatham's famed fishing fleet, the day couldn't have been more perfect! With its ideal location and enough outdoor space to accommodate seating for the ceremony and a tent for the reception, Alli and Eric opted to make Turntide the centerpiece of the entire day.
After the bride and groom got ready on opposite ends of the home – no peeking allowed! – Alli took a few minutes for photos with her maids before moving outside, where Eric awaited. The exchanged their vows in the backyard which, with its hilltop location, provided sweeping views of the breathtaking location, with Allan Lobozzo, a friend, officiating.
With "I do's" completed – mission accomplished! – the couple spent a few minutes privately savoring the moment before joining their guests for the reception.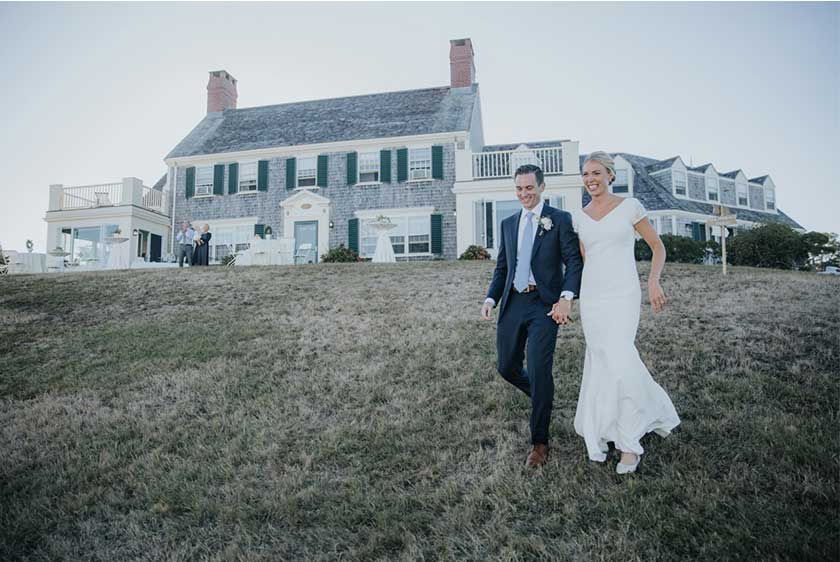 Arranged under a sailcloth tent provided by UnderCover Tent & Party was a mix of farmhouse tables and linen-clad round tables.
Greenery extended the entire length of each farmhouse table, while arrangements of pale pink cabbage roses and white dahlias dotted the round tables. All of the florals for the day, including Alli's bouquet, were provided by Fancy Flowers by Meredith. Place settings were kept simple, a white napkin with a sprig of fresh rosemary, classic flatware, and clear water and wine glasses. White votive candles were everywhere! The overall look was one of pared-down elegance; so Cape Cod, so Chatham, so perfect!
Throughout the afternoon and evening, Eric and Alli took time to step away from the reception for photos, creating a series of images with a breathtaking timeline effect as the sun slipped down in the sky.
After dinner, a buffet that included locally sourced cod and roasted sirloin, Eric and Alli danced the night away, with a gentle breeze off of the water keeping things cool as the evening heated up. DJ Scott Arrington, of Murray Hill Talent, kept the dance floor filled for hours! A sparkler sendoff completed the couple's absolutely flawless day.
Alli & Eric's Menu: 
Stationary Hors d'oeuvres: Deluxe Cheese, Fruit & Crudité Table: Fresh Vegetables & Wedges of Imported & Domestic Cheeses, including Cotswold, Gouda, Classic Brie, Havarti with Dill & Saga Bleu Served with Imported Crackers
Butlered Hors d'oeuvres:  "Fish & Chips" – Maine Russet Potato Gaufrette with Potato Crusted Sole & Downeast Slaw; Scallops with Bacon and Maple Cream; Buttermilk Fried Chicken over a Cheddar-Jalapeno Waffle; Pork Belly & Mango Skewers with Hoisin Glaze; Flatbread with Brie, Caramelized Onions & Fig Jam; Asparagus and Fontina Toasts with Arugula Pesto
Cape Market Salad: Jansal Valley Locally Grown Mixed Baby Greens with Mann Farm Dried Cranberries, Spiced Pecans and House-Made Cranberry Vinaigrette
Dinner Buffet:
Grilled Marinated Bistro Sirloin Roast: Hand Carved to Order, Paired with a Cognac Bearnaise and a Shallot-Port Demi Glace 
North Atlantic Cod: with Arugula and a Roasted Red Pepper Crust, Served with Cranberry Beurre Blanc 
Asparagus Lemon Pasta: Bowtie Pasta & Fresh Asparagus in a Light Lemon Parmesan Cream 
Trilogy of Heirloom Potatoes: Old ways grown Heirloom Potatoes Lightly Sautéed in Parsley & Butter 
Marinated Grilled Vegetables: with Fresh Rosemary & Garlic
Dessert: Wedding Cake